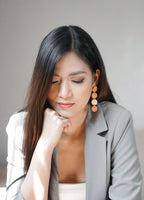 Slow-made. Thoughtfully crafted. Made with so much love!
Creating fun and modern earrings using polymer clay– mixing colors, kneading, molding, baking and sanding by yours truly!
Stylish and affordable! Each piece is passionately made in small batches with limited pieces per design. Hope you appreciate the pieces as much as I've enjoyed making them.
May you find the perfect pair!
CH-EARS!
♡ Tracy #letsearparty 🎉